About KH ?
Keith Huewen  is a former British Champion and Grand Prix motorcycle racer. Since retiring from the track Keith h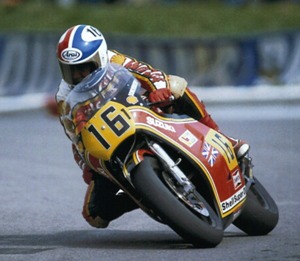 as been a leading motorsports commentator and broadcaster based in the UK. Keith can be seen and heard on television and radio throughout the racing season. He is also a long serving member on the board of directors of
Riders for Health  www.riders.org 
the official charity of MotoGP, founded by grand prix 'people' and headed by Her Royal Highness Princess Anne.


" Keith Huewen is and was a motorcyclist before anything else. By accident he found out he could also be a motorcycle racer, and a good one at that. Good enough to come second in his second British Grand Prix. There was natural ability there obviously, but Keith was one of those sportsmen whose real strength was his self-belief and a bloody minded will to win rather than a God-given talent. He was the sort of competitor you would not want to find yourself side-by-side with going into the last corner. He was also clever enough to realise there would have to be a time when he couldn't earn a living as a sportsman. He started commentating on a few outside broadcasts with Anglia TV, and when satellite television arrived in the UK he was able to lever himself into Sky's coverage of GPs and then front their wildly successful World Superbike Championship programmes. Then, with his usual fearlessness, he was able to transfer his skills to presenting other motorsports "
by
Julian Ryder
MotoGP journalist & broadcaster

        Short Biog
        Keith Alan Huewen
        Born:            Southend-on-Sea, Essex, UK - 23rd August
        Nationality:   British
        Home:          Northampton, England
                             Married to Venus
                             3 Children
        Car:              BMW
        Bikes:           Norton Commando Fastback - R1 Yamaha
        Likes:           Thai food - Jack Daniels - Travel - Work!
        Dislikes:       Political correctness - Queues - Rain