WEBLOG
Today is Saturday, December 7, 2013


Road Trip to Le Mans (the Grand Prix of France)
By Keith Huewen 22/4/13 (copyright)
Part One
I have always enjoyed the French Grand Prix and in 2013 had made my mind up to make a return to Le Mans. Despite strict rules and regulations forcing conformity on the race track, each Grand Prix has it's own distinct personality.  Le Mans is special in that it has retained an atmosphere unique to the venue. Perhaps it's the frustrating last mile of access roads, the direction guided more by smoke from trackside bonfires than clear signage, the deafening motorcycle kissing the rev limiter for all to admire, the always full car park, or the gauntlet of drunken revellers to be endured both on entering and exiting the track everyday? Whatever it is, you need to feel it at least once!

It had been a full 30 years since I had last been to Le Mans, back then I left happy with a 5th place score in the 500cc French GP around the 'car park track'. I also left with distinctly sad memories of two men I hardly knew but was on 'nodding' terms with in the extremely social and friendly Grand Prix paddock of the 1980s. Iwao Ishikawa crashed in practice on the flat out drop down to La Chapelle, there were no chicanes to slow us down in those days. While the track fell silent and the debri was cleared we tried not to notice the sound of the ambulance slowly working it's way through the streets to the hospital, where he later died. The French version of emergency transport added yet another style of 'bell' to my then increasing bank of haunting ambulance sounds from around the world. Three days later, some 5 laps in to the 500cc Grand Prix, Michel Frutcshi crashed in a place you'd think there was enough room to get away with it but, thanks to a ludicrous 'catch fence' pole, he didn't.
http://www.youtube.com/watch?feature=player_detailpage&v=NoyAdxS7d1M
I don't often reminisce, I'm more a man that looks forward to the future, but this year I felt a strong desire to try to remember minute details from my last visit to Le Mans. And so I decided to pay homage to those distant memories of Iwao, Michel and the class of 1983.

This meant I should travel by road and cross the English Channel by ferry but, after speaking with some regular GP aficionados about how they would be getting there, I wondered if I was making a mistake. Some were flying and then hiring cars, some were using trains and trams but even though it's a relatively short distance none were contemplating a proper road trip. Being an organised kind of a bloke I put together my check list undeterred. My first impression was of how things have changed, what happened to the rebellious and non conforming nature of the French that I remember? Or were all these pedantic new rules of the road just to catch out the hapless foreigner herded through the French road system into the arms of an arrogant Gendarme? OK, carrying hi viz jackets if you break down at night might be a good idea, making sure a right-hand-drive car's headlights don't blind oncoming traffic is fair too, but carrying your own breathalyser kit to make sure you're drunk made me laugh out loud! But, as I have a real hatred of paying unreasonable fines, with the exception of the almost inevitable speeding penalty, I complied accordingly.

At 5:30 on Friday morning the sun was just up over Northampton. Time for a quick shower, shave and, with no movement whatsoever from my wife and kids, a whispered goodbye as the door clicked behind me. I'm in an exceptionally good mood. That selfish focus of concentrating only on what YOU want to do without the distraction of the myriad of minor daily duties feels good. I run to my car as if someone's going to call me back.

After all these years of travel I know the way to Dover so don't bother with satnav and rely on the radio for any traffic hiccups, there are none. Two hours later I arrive at the docks and marvel again at the fact that it will cost only £45 for a return trip for me and a 5 series BMW, this being a standard P&O tariff not a special deal or booked early. Could there be a catch? The docks are well laid out and there's no difficulty with passport control or check-in. All this achieved without stepping out of my car. I'm directed to line 199 and after a 30 minute wait am waived on to the Pride of Canterbury. Once parked on the boat there seems to be some kind of rush by passengers around me, this I immediately recognise as boat veterans rushing for the best seats and I speed up to be among the first to hit the decks. I spot a sign for The Brasserie and head to the front of the boat to join the short queue for breakfast. There are self service restaurants on board but I want service and a window to look out of, although I don't know what I'll look at! The only clue as to the fact I'm at a restaurant door on a stinking channel ferry is when the properly dressed concierge asks, 'how many, mate'? Just the one thanks geezer. I'm personally shown to my table and my order from the menu is taken, after a few minutes I'm served a rack of 8 bits of toast, (brown and white bread), a large portion of smoked salmon and scrambled eggs with pot of tea and orange juice. All for £13. Obviously the channel tunnel competition has forced the ferries to up their game, and they have! The 90 minute journey is just right and when the tannoy asks drivers to return to their vehicles, (no mention of the many riders that are also floating over to France), I'm ready for the 270 mile dash to Le Mans.

Driving on the Right
Part 2
As I'm heading for my car on 'Deck 5' I realise I've forgotten to buy some Euros, no problem, the man at the P&O exchange counter is happy to give me an only-slightly-poorer-rate-than-usual so that I can later hand them to the highwayman that will take £30 off me in road tolls over the next 4 hours. So with no further hitch, the boat tied up, I'm off... behind some old fella that is clearly nervous of every ripple on foreign soil. Still, at least, I wasn't stuck behind the small caravan weighing down a small car full of small kids who had to stop on the narrow exit road 2 minutes after getting off the boat to walk his small dog! Holiday?

To spice things up I decided to revert to that forgotten art of map reading, something we had to do before satnav, mobile phones and a wife to keep us safe. Sadly, as I reminded myself, this only works when your eyesight is as good as it was when you were 25! So it was back to the widescreen dash map and instructions from my German mistress behind the plastic. The roads were near empty, the sun shining and, with no other occupants in the car, I made the most of the opportunity to test my vocal prowess ranging from Jimi Hendrix to Rihanna. Perfect! It was a completely uneventful and non stop drive which, if I was on business or had a deadline, would be great but I couldn't help feeling, where was the adventure?! After a couple of laps of a couple of Le Mans roundabouts I arrived at the Accreditation Centre to collect my vehicle pass and then got lucky with the only spare space in P1, (this privilege is usually only available to those who get to the track before 8am).

As I walked through the security gate present at all MotoGP, my pass was scanned in, (perhaps to stop that old ruse of then passing it through the fence to get your mate in), and I immediately began swapping stares with people that I half knew from a past life. Journalists, photographers and mechanics nodded or shook my hand, proving that either they had a better memory than me or I must resemble someone else. Quite extraordinary. It's hard to believe how many people from so long ago still worked in the GP paddock. I will admit to feeling quite nervous, and a little sad that I had been away from the environment that I love for so long.
After I'd called in to IRTA, (International Race Teams Association), to collect the latest MotoGP rule book from my good friend Mike Trimby I decided to go to my hotel for a freshen up and food. Pole Position Travel had been able to arrange a hotel just 3 minutes down the road but, I have to say, location obviously affected the price. I think £130 a night for a standard IBIS is a bit much. And that was a special deal. But the car park was secure, the room spotlessly clean and the restaurant service friendly, just what you want after a long day.

Quirks n Qualifying
Part 3


Rule Brittania & Heading Home
Part 4



Free to air sport on TV – Are these halcyon days numbered?
By Keith Huewen 25/7/11 Palm City FLA (copyright)
Big terrestrial television stations like to remind us of their 'free to air' broadcast status. The mantra is true, if you forget the UK licence fee, but as they wrestle with shrinking budgets, burgeoning 'rights' fees and the cost of new technologies to bring our favourite programmes into our lives, it's hard to see how 'free to air' sport can survive.A few top quality sports are available 'free to air' in 2011, but this could be a halcyon year, the best you'll ever see at the cheapest price you'll ever pay. Change is difficult, not everyone likes it, and paying more for that change makes it all the harder. Of course value cannot be measured by how cheap something is, only how the price compares to the product. This cost to quality ratio can rarely be cheated, particularly in 21st century sports television broadcasting.
Sport was once cheap TV, but in the early '90s Rupert Murdoch's empire invested heavily and showed just how well a sport could be covered, how it should be covered, and just how much a sport could earn from television in the process. Since then 'free to air' broadcasters of sport have been under siege.
For some fans it's an unpalatable reality that most top sports are now on a subscription channel. For the rest of us, the trade-off is acceptable as sports coverage has massively improved in both content and quality since the Murdoch intervention. And not just on pay TV; broadcasters had to match the competition, so all sports broadcasting improved.
There are exceptions; wherever they can get away with it, whenever they can buck that ratio of cost to quality.
A modern example is MotoGP, currently live in the UK only on the BBC. The world's premier bike series has a very large and [usually] loyal audience but recently, since the grid line-up shrank and racing became less spectacular, more of us have focused on the 'show'. And fans have noticed that what we get is no longer up to scratch. Fantastic racing once diluted any dissatisfaction with programme quality, not anymore. Specialist forum and social media sites have seen increasingly adverse comments; the old beeb has been slow to respond. In fact, it hasn't.
Compare this to their outstanding Formula One coverage and the difference is stark. For F1 the production quality is superb, but the BBC is spending so much money they just can't keep it up. They may even have to buy their way out of the contract with rights holder Bernie Ecclestone before its natural conclusion.
MotoGP, however, is comparatively cheap and the audience usually less demanding, and for these reasons alone the BBC will want to keep the bikes. But fans apparently expect more from Britain's biggest broadcaster. Are they being short-changed or should MotoGP just be grateful for 'free to air' coverage and accept the quality that the broadcaster can afford? Every broadcaster has an eye on costs, but at what cost to the sport?
Good television is the product of teamwork. Great television is by a team of dynamic people with genuine passion and understanding of a sport . The best environment for such people is increasingly rare in terrestrial TV - a dedicated sports department. Now the modern practice is to 'out source' production to save money - find a firm prepared to produce it for the least cost. But when the cost restricts quality or content the result is a product that doesn't match the public's expectation. And nowadays a motor sport fan has high expectation!
The day that regular sports series like F1 and MotoGP are available only on a subscription channel could be fast approaching. Big single events may survive on terrestrial TV after government intervention or policy but because we expect our sport covered comprehensively, absolutely live and with the best possible quality production, only subscription sports channels will be able to sustain such high demands.
Dedicated sports channels would give time and attention to the sport they support, while the huge sums of cash saved by our grand old license fee funded institution, along with the other bastions of terrestrial TV, could be better spent on other programming.
This prediction for the future of sports broadcasting may horrify some fans, but it is logical in every way; the alternative is to go back to what we had pre 1990. I suspect you'd soon join me in scrambling for a credit card and the telephone, begging for a HD subscription, no, sod it, 3D!
There is no way to buck the cost of quality sports coverage. The only question is; how long can so called free to air sports TV sustain it? Now, hand me those daft glasses.
 

Goodwood Festival of Speed 2010
Viva Veloce! - part one - Saturday
By Keith Huewen 5/7/10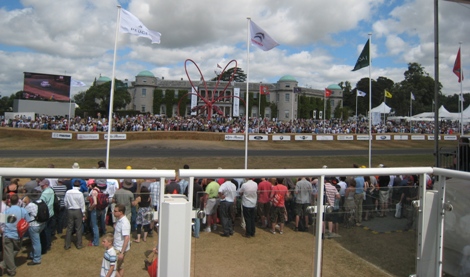 Just a week before the first ever live television broadcast of the prestigious Festival of Speed it was decided that I would anchor the event from a studio directly opposite Lord March's house on the Goodwood Estate. It felt an honour to be part of an event that any self respecting motorsport and motorbike fan would consider a highlight of the year. But what I didn't know was that my first ever visit to the Festival would bring me back in to contact with so many old friends and conjure up so many thoughts of my past life. To mix work and pleasure at such a high level is a privilege that cannot be taken for granted and I had no expectation of attending the exclusive Saturday night Ball, I hadn't even packed appropriate clothing. Luckily my wife was coming to Goodwood separately on Saturday evening so, when an invitation was extended to us, she had time to respond. But there was the little detail of logistics; my hotel was miles away, I still had elements for Sunday's TV program to finish, my car was on one side of the 12,000 acre estate, Venus eventually arrived on the other side of the estate after her 130 mile trip became lost in the West Sussex countryside, we had no facilities to wash or change after a long hot day and we had to be on the lawn outside the big house among motorsport royalty by 7pm. I don't get stressed much when I'm working, but this was important! But with help from the production company, Endemol, and my producer, Steve Saint, they jiggled everything slightly so that we could go to the ball. The downside? My new nickname is 'Cinderella'! But as none of our team were able to join us, I suppose you can't blame them. So we got changed in a truck, washed in a Portaloo, left our clothes in a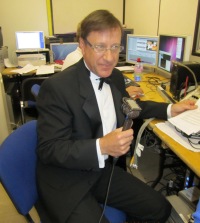 food freezer and I polished off my last scripted voice-over dressed like a lord! (pic) An exciting start to a magical night of entertainment, first class food and exceptional company! I have been 'around' for a long time and have been fortunate to meet interesting individuals from every walk of life, but a party of this magnitude was truly awesome, and done to virtual perfection. To say we walked the red carpet, had drinks on the lawn, dined in a marquee, watched a show followed by fireworks and danced to a couple of bands plainly understates the event. I would have to write for an hour to give you anything like a true feel for what was presented to us. But, for me, restraint was also key. Never far from my mind, despite the obvious distractions, was the fact that I had the huge responsibility of fronting a new television venture, with some very exclusive guests. So my usual 'party' consumption was restricted to water and this one was seen through the eyes of a very sober Huewen. We were tucked up with happy memories by 2am, and looking forward to an early start on Sunday.

Festival of Speed - part 2 - Sunday - Legends on Parade
The traffic around Goodwood saw me try a new route through the lanes of West Sussex and, as if by magic, we arrived directly opposite gate 4 where we'd left my wife's car the night before. A good start but, unusually, I feel slightly nervous. I'm working with a production crew I don't work with much, Venus is with me, (which is unusual when I'm working), and it is an event that has never been broadcast live before so I feel a bigger responsibility than usual. The show schedule is incredibly tight and we have just two hours to fit all the elements in. And things immediately start to warm up when Chris Evans wants to pre record his slot. Not difficult, but when he can't find our lovely studio it all takes more time than anticipated and we only have a small window of 'quiet' track time to do our pre recordings prior to the live on air show at 3pm! But Chris was great, very funny and completely 'himself'. But the tension is now palpable, if you could hear the amount of stuff that comes through my ear-piece on a show like this then you'd understand why sometimes a TV presenter has that slightly stunned look! Finally the count comes to our on-air time of 3pm and all goes pretty well, Lewis Hamilton is now waiting in the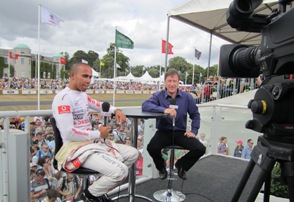 wings and I can't wait to talk to him. I'm sitting in position as he is brought to the table. He's slightly edgy, impatient, he asks "how long?" I say 3 minutes, (an introduction to Goodwood is playing out), he gets up and goes to the back of the studio to 'text' someone. He's not interested in any kind of chit chat and is sheilded by a massive woman dressed in Vodaphone/McLaren gear who seems quite unfriendly. It's funny how expectations can be crushed, and this is not what I expected. My family has huge admiration for his achievements and I had commentated on so many of his kart races as he rose through the ranks, but this is actually the first time I have met Lewis in person. Perhaps he didn't like my commentary, oh dear! But his impatience evaporated when he heard there were 30 seconds till we were live to the nation, his white teeth flashed obediently, he glanced over his shoulder to the 100s of cheering fans that had gathered below us and my 3 minutes with Lewis Hamilton could not have gone better. And so, without a backward glance, he had fulfilled his obligation and was quickly in the slip-stream of that large lady and heading for the door. I had no time to think about my disappointment, I'd more big fish to fry, but the moment still lingers. By now the show was picking up pace, I like talking to Sir Jackie Stewart, Sir Stirling Moss was, as you should expect, a proper gentleman who was very happy to help in any way he could, and chef James Martin was funny and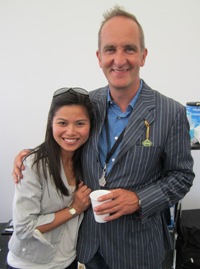 seemed a nice guy. But it was Kevin McCloud of 'Grand Designs' fame who I really enjoyed the company of. Completely natural and extremely eloquent, he would be invited to any party of mine. As the show looked forward to the Hill Climb Shootout the cars and bikes were deafening just a few yards from our studio. David Croft and Anthony Davidson were prooving that you should never ask a car commentator to talk about bikes, (how CAN you mistake a Ducati for an MV, James Toseland for Neil Hodgson or, worst of all, not know who GIACOMO AGOSTINI is). Preparation boys, preparation! Our celebrity stock had all but dried up, the wind was now trying to blow my immaculately sprayed hair out of shape, the sun was bright, making me look unappealingly oily, (make up artist - what make up artist), as me and Tony Jardine, that man with more anecdotes than Murray Walker, were left to cover the finer and final points of Goodwood from our studio chairs with Charlie Webster occasionally and glamorously reporting from the top of the 'hill'.... And then, all too soon, it was time to say goodbye. Two hours had seemed like twenty minutes. It was not the most important show I had ever presided over, it didn't even have much real sport in it, but I felt like I had just ticked a few boxes after all this time in broadcasting. The Goodwood Festival of Speed had completely charmed it's way into my heart and I can't ever imagine being without a ticket ever again. Whether I'll get a chance to cover it from my previously privileged position we will have to wait and see!

Tips for your visit to the Festival of Speed:
Don't rely on the traffic marshals, most have no idea where anything is! Do tune into the excellent Goodwood Radio for track commentary and announcements. Give yourself plenty of time, there's a lot going on. Take your camera, there are so many star names just wandering around, (not to mention famous cars and bikes). Be on the lawn outside the big house by 7pm on Saturday night to see motorsport Gods turn up for the Ball, then hang around for a couple of hours to witness the incredible firework display, (ok, you need to be invited to the Ball for pole position but it's still a great 'free' show from outside). Be prepared for average food at inflated prices, although in my opinion the FoS represents good value for money. Try to get in to the spirit of the event, be in a good mood and polite, it's such a nice atmosphere we don't want you to be the one to ruin it thanks!
 
Today is Saturday, December 7, 2013